Creating a corporate culture of safety.
Posted June 6, 2020
The National Safety Council has made June National Safety Month®. At SynTerra, our professionals and staff take that seriously. As a core principle, we make safety a priority with our clients, our community, and each other – every day.
Building on our credentials
As a science and engineering firm, we deliver a broad array of environmental and civil engineering services. With that, SynTerra has more than 25 years of experience developing and implementing the safety programs our clients rely on. The Occupational Safety and Health Administration (OSHA) certification training and other safety programs that we deliver include –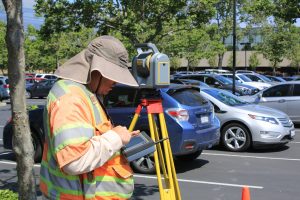 OSHA 40-Hour HAZWOPER (Hazardous Waste Operations and Emergency Response) training
OSHA 8-Hour HAZWOPER annual refresher training
Miner Safety and Health Administration (MSHA) training (including annual 8-Hour refresher training)
OSHA 10-Hour and 30-Hour safety courses
Boating safety certification training
Adult/Infant CPR and First Aid certification training
Responding in the moment
SynTerra maintains an extensive roster of safety training requirements for our professionals. This year, for example, we made critical changes in light of the pandemic. We implemented recommendations made by the Centers for Disease Control and Prevention (CDC) regarding regular handwashing, when to wear a mask, and other practices that help avoid spreading the Coronavirus Disease 2019 (COVID-19). While keeping content relevant and applicable, we also place an emphasis on flexibility and using a variety of training techniques. Whether in a physical classroom or virtual setting, however, effective, interactive communication is always a key component of our training approach.
Investing in employee safety – in the office and beyond
SynTerra knows that office ergonomics and our ability to respond in an emergency is critical to maintaining a safe environment for all employees. By investing in ergonomically designed office furniture and tools, hosting reoccurring "lunch-and-learns" (with topics like poison control, heavy lifting techniques, and hearing protection), and offering CPR and First Aid training for the whole family through the American Heart Association, we go the extra mile to keep our entire SynTerra family out of harm's way.
What's our bottom line?
Ultimately, SynTerra trains professionals to take responsibility for performing tasks safely and to stop any task or operation when there is a concern for the health and safety of our personnel or those around us. And we put our money where our mouth is. We continually invest in advancing the programs, tools, and technologies that our clients need and our employees depend on — because going home safely every day is important to all of us.
If you have any questions about SynTerra's safety programs, or how we can assist with your corporate safety needs, email us today at info@synterracorp.com.