SynTerra Graphics Technology Group
SynTerra offers a wide range of geospatial expertise that can serve the needs of a variety of industries, both public and private. From interactive web GIS applications to high quality CAD drawings to advanced data analysis, SynTerra can assist your organization with reaching its geospatial goals.
Integrated 2D Visualizations
All web GIS applications come with fully integrated 2D and 3D map views. 2D provides a top-down user experience and expands on traditional hard copy maps by offering map interactivity and a suite of tools.
Tools Currently Available in 2D:
Basemap Gallery
Bookmarks
Coordinate Conversion
Editor
Layer List & Filters
Legend
Measure
Popups
Print
Scalebar
Search
Sketch
Statistical Query
Time Slider
Track Location (Mobile Only)
Attribute Table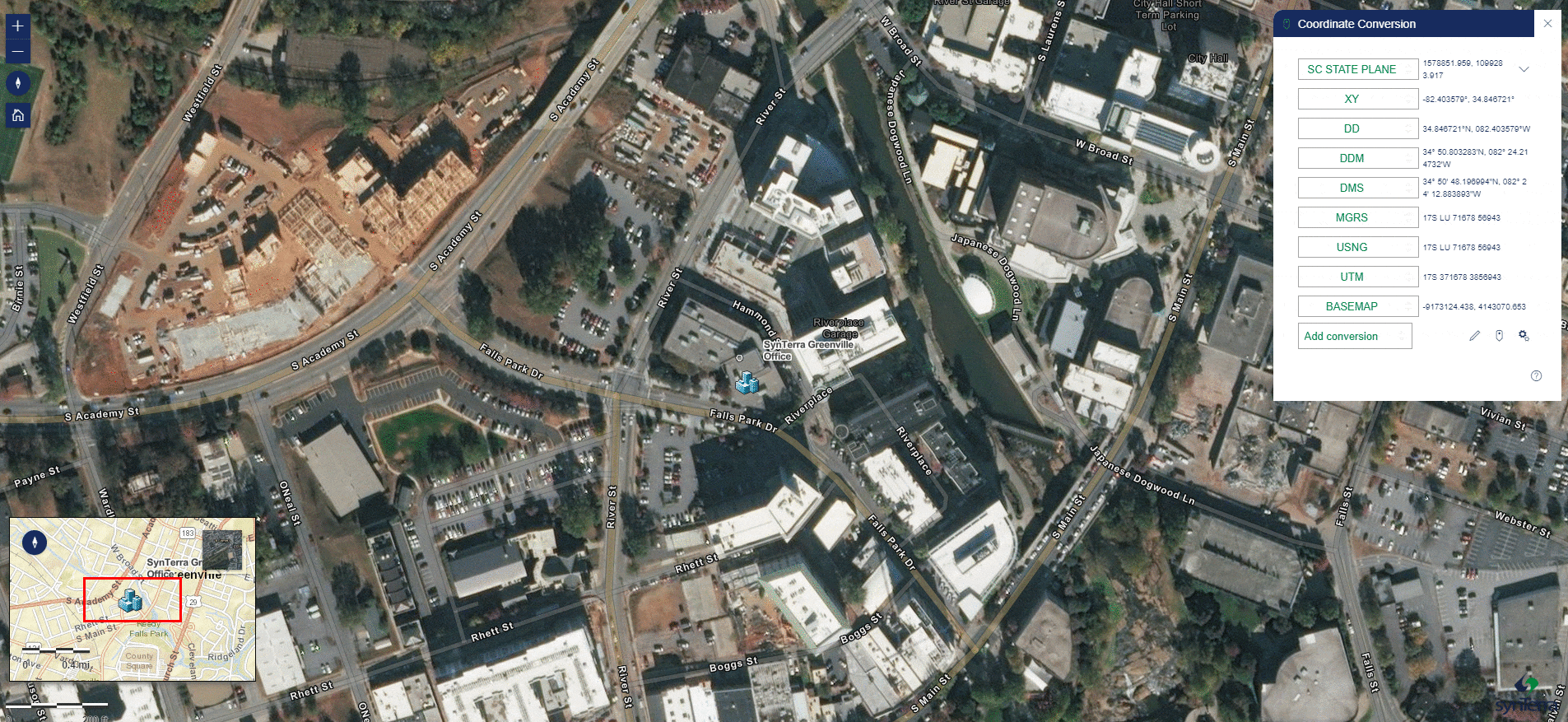 The Coordinate Conversion tool provides cursor/point location coordinates in a variety of formats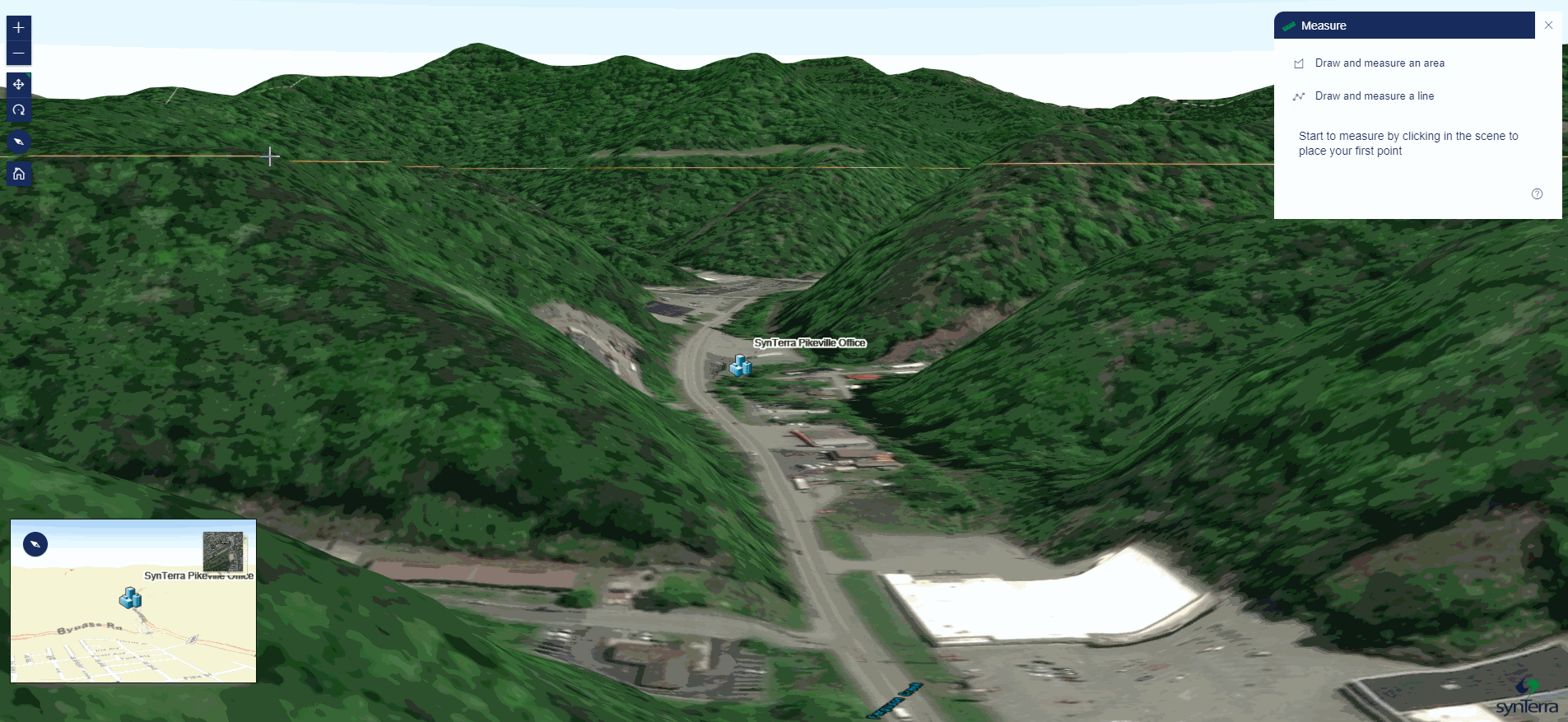 Measuring tools are available in both 2D and 3D
Integrated 3D Visualizations
3D extends the benefits of web GIS even more by providing a new perspective of GIS data. It features full horizontal and vertical rotational control of the map as well as basemap elevation, allowing visualization of data in a complete spatial context. Subsurface data can be displayed to show its depth underground.
Tools Currently Available in 3D:
Basemap Gallery
Coordinate Conversion
Legend
Measure
Popups
Attribute Table
Screenshot
Search
Sketch
Statistical Query
Track Location (Mobile Only)
All web GIS applications are operating system and device agnostic. They are compatible with Windows, macOS, and Linux and most modern mobile devices that run iOS, Android, or Windows Mobile. They are also optimized to run on modern browsers including Google Chrome, Mozilla Firefox, Opera, Microsoft Edge, and Apple Safari.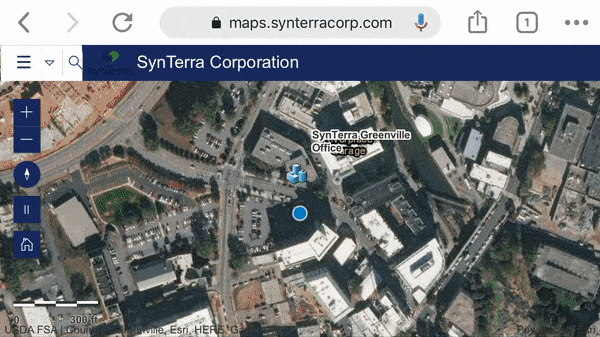 The application will dynamically adjust to a mobile layout & enable the ability to track user location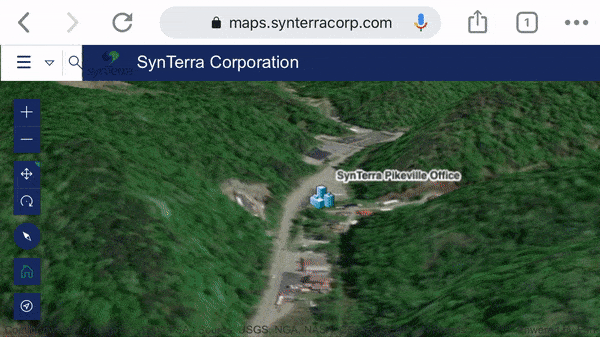 3D is available on compatible mobile devices
Add Photos & Videos As Layer Attachments
Data Editing
Full Compatibility With ESRI Collector For ArcGIS Mobile App
Location Tracking Via Device GPS
Offline Editing & Syncing Capabilities
Client-Side Statistical Spatial Querying
The Statistical Query tool gives deep insight into spatial analytical data by allowing the user to select features on the map. The application will then calculate aggregate statistics such as mean or standard deviation and plot the results on a graph and table. Project-specific calculations are also possible. The interactive table has common spreadsheet functionality including sorting and filtering and can be exported to the desktop as a formatted spreadsheet.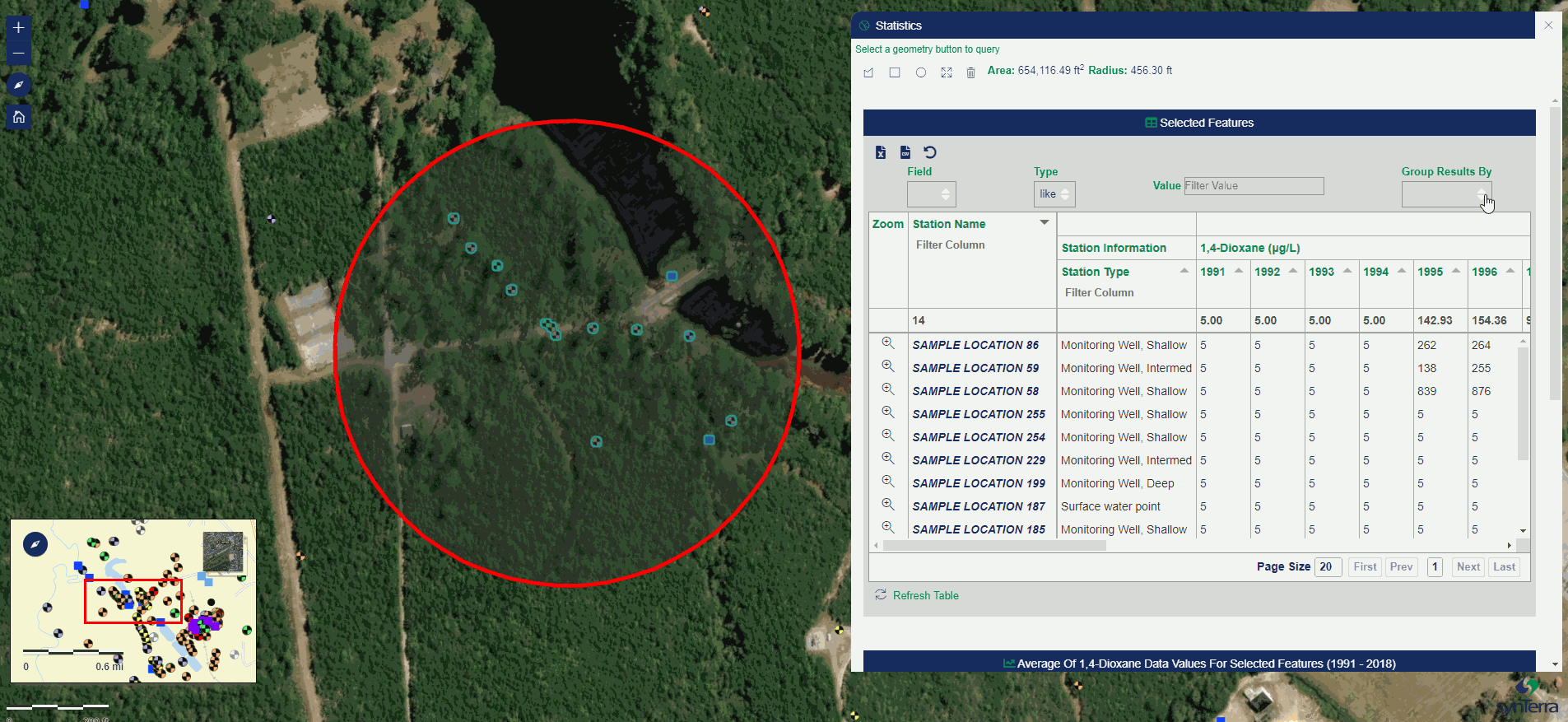 The interactive table provides common spreadsheet functionality and can be used to quickly zoom to selected features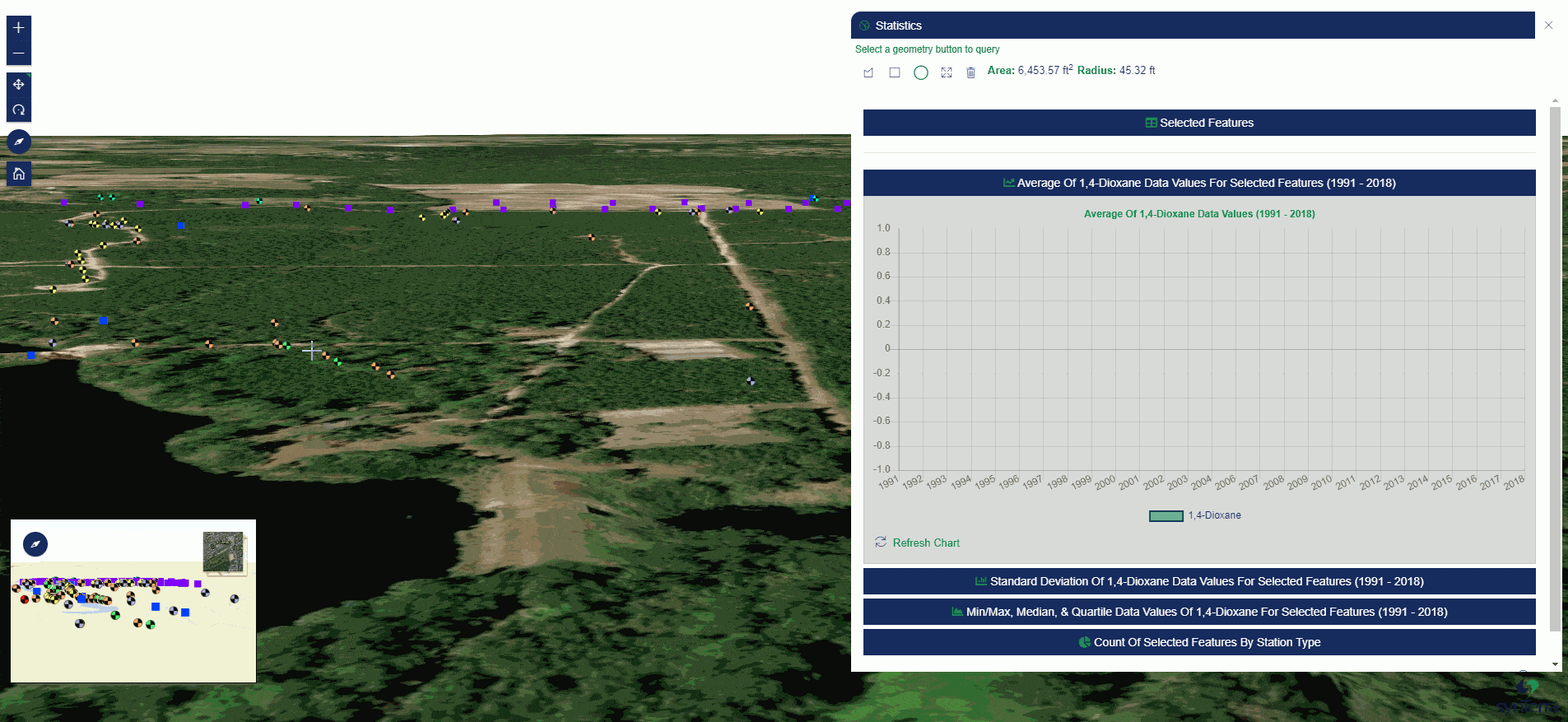 Statistically-driven spatial queries are available in both 2D & 3D
Charts/Graphs Currently Available
Area
Bar (Horizontal and Vertical)
Box and Whiskers
Bubble
Donut & Pie
Line
Mixed
Polar Area
Radar
Scatter
Current Table Functionality
Column Aggregate Statistics
Download As Formatted .xlxs/.csv Spreadsheet
Filter Single Column
Filter Entire Table
Group Results By Attribute
Pagination
Row Hover Feature Highlight & Zoom
Sort
The Crosstab tool provides a dynamic, drag and drop crosstab interface that allows the user to dive deep into their tabular data. Crosstabs provide a table that quantitatively analyzes the relationship between multiple variables. For example, a crosstab can be created to show the amount of boron in groundwater for each unique sampling event at a groundwater monitoring well.
Tool Features:
Aggregate Statistics (average, min/max, standard deviation)
Drag and drop functionality
Export to a formatted spreadsheet (.xls)
Field filtering
Sub/Grand total calculations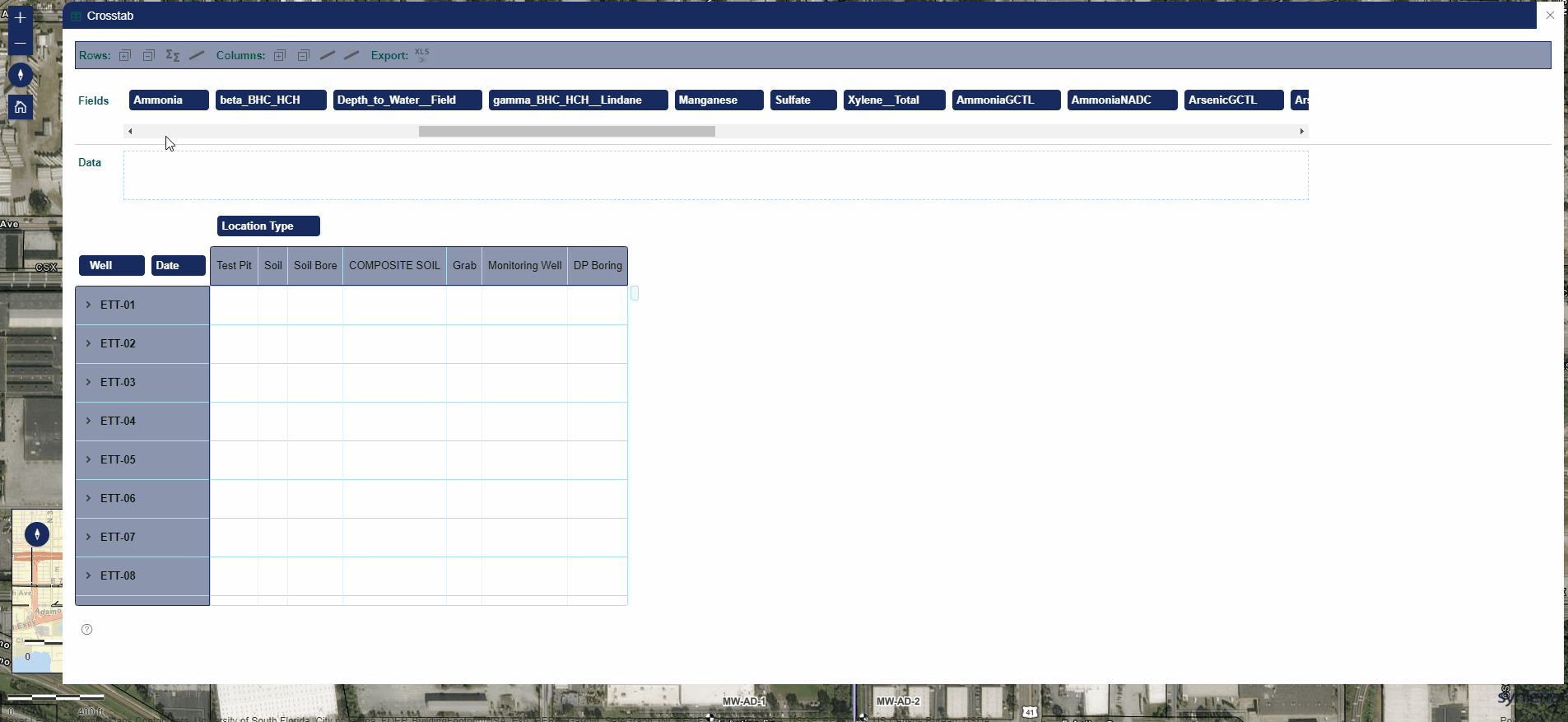 The Crosstab tool allows for drag and drop crosstab creation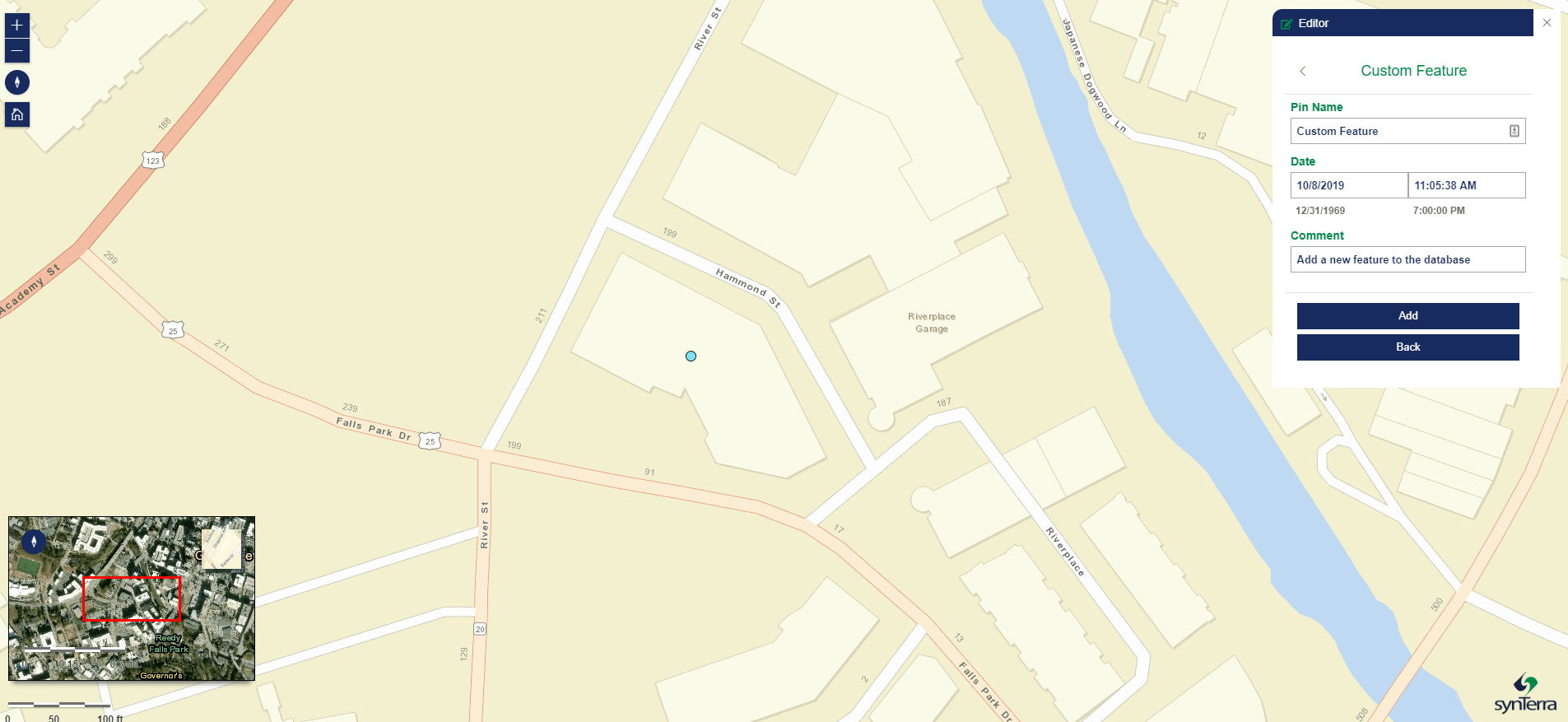 Create & modify data client-side
Modify GIS data easily and securely directly from the application with the Editor tool. Editable layers can be prepared with any number of predefined fields with standard data types including string, integer, double, and date. The intuitive user interface allows for the creation of new features as well as the ability to modify and/or delete existing features. The layer is housed in a secure ArcSDE database.
GIS data isn't limited to only points, lines, and polygons. Raster data consists of a matrix of cells where each cell contains a discrete value representing real-world phenomena, such as land-use or soils data. Advanced geospatial analysis frequently produces raster data sets and SynTerra's web GIS platform provides support for visualizing raster data.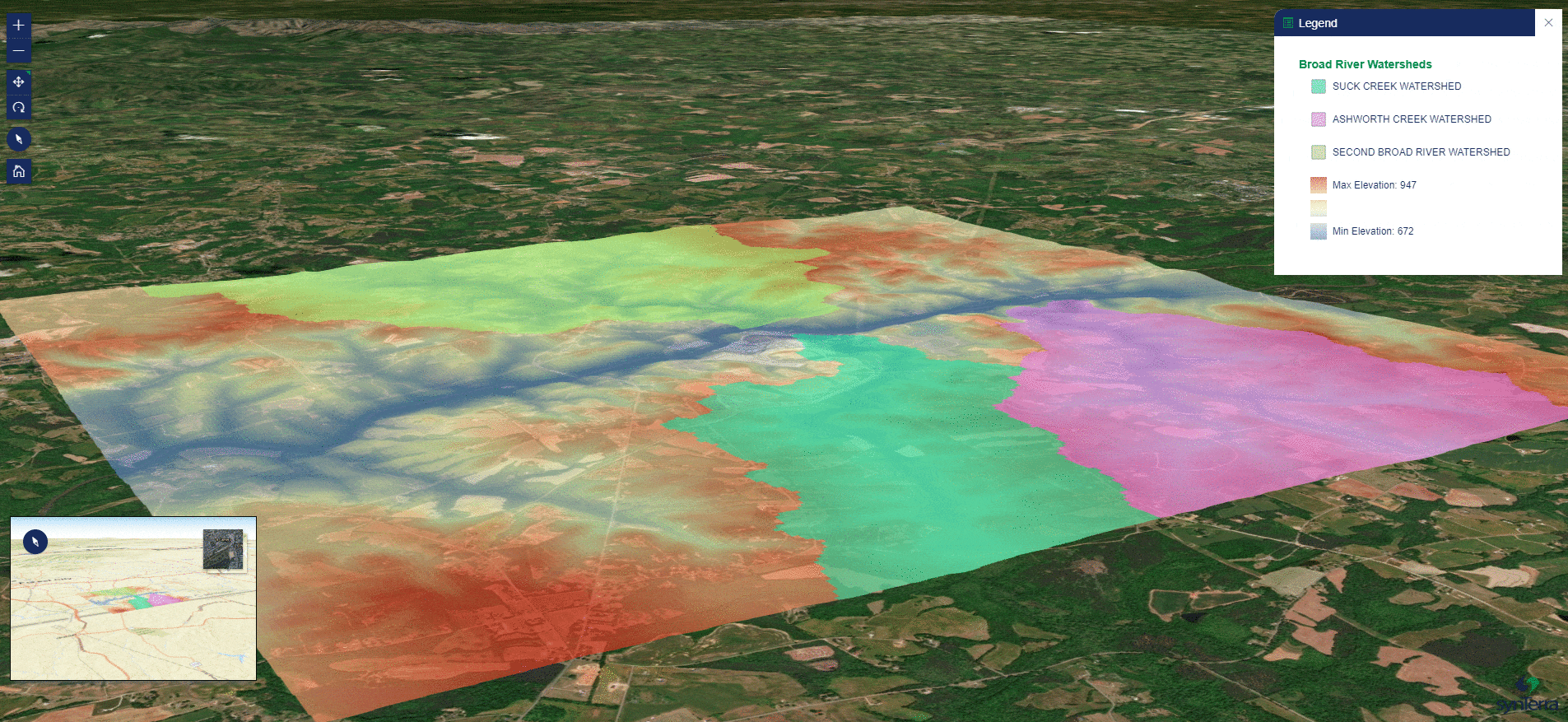 Watershed Delineation & Digital Elevation Model (DEM) for a portion of the Broad River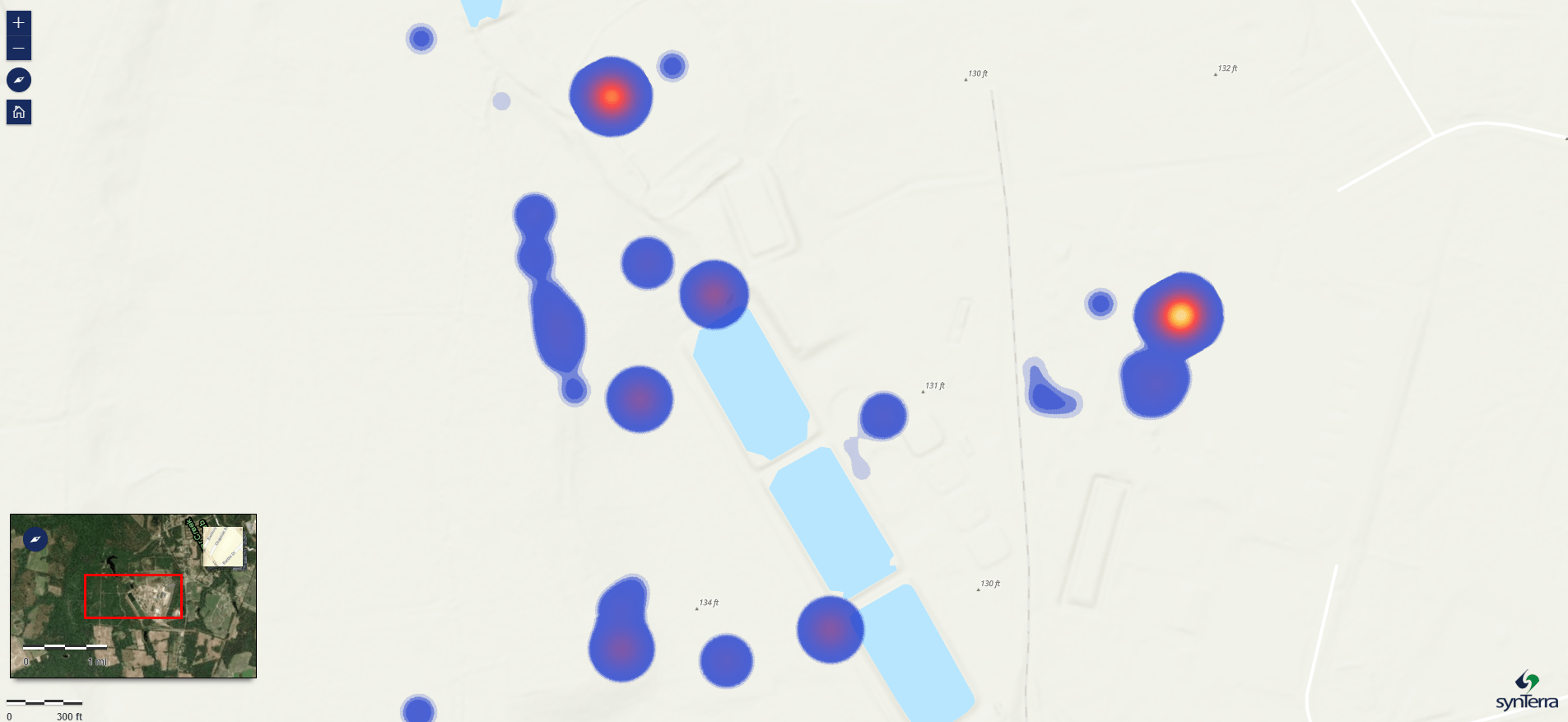 Heat maps can be weighted by a numerical attribute to show statistically significant data clustering
Advanced Data Visualizations
GIS data can be visualized in several ways with advanced symbology. For example, a weighted heat map can be created to illustrate statistically significant clustering. Symbol size can be varied by a numerical attribute, displaying larger symbols for larger values and smaller symbols for smaller values.
Time-enabled GIS layers can be animated to visualize change over time with the Time Slider tool. It can also be manually controlled to give focus to one specific point in time.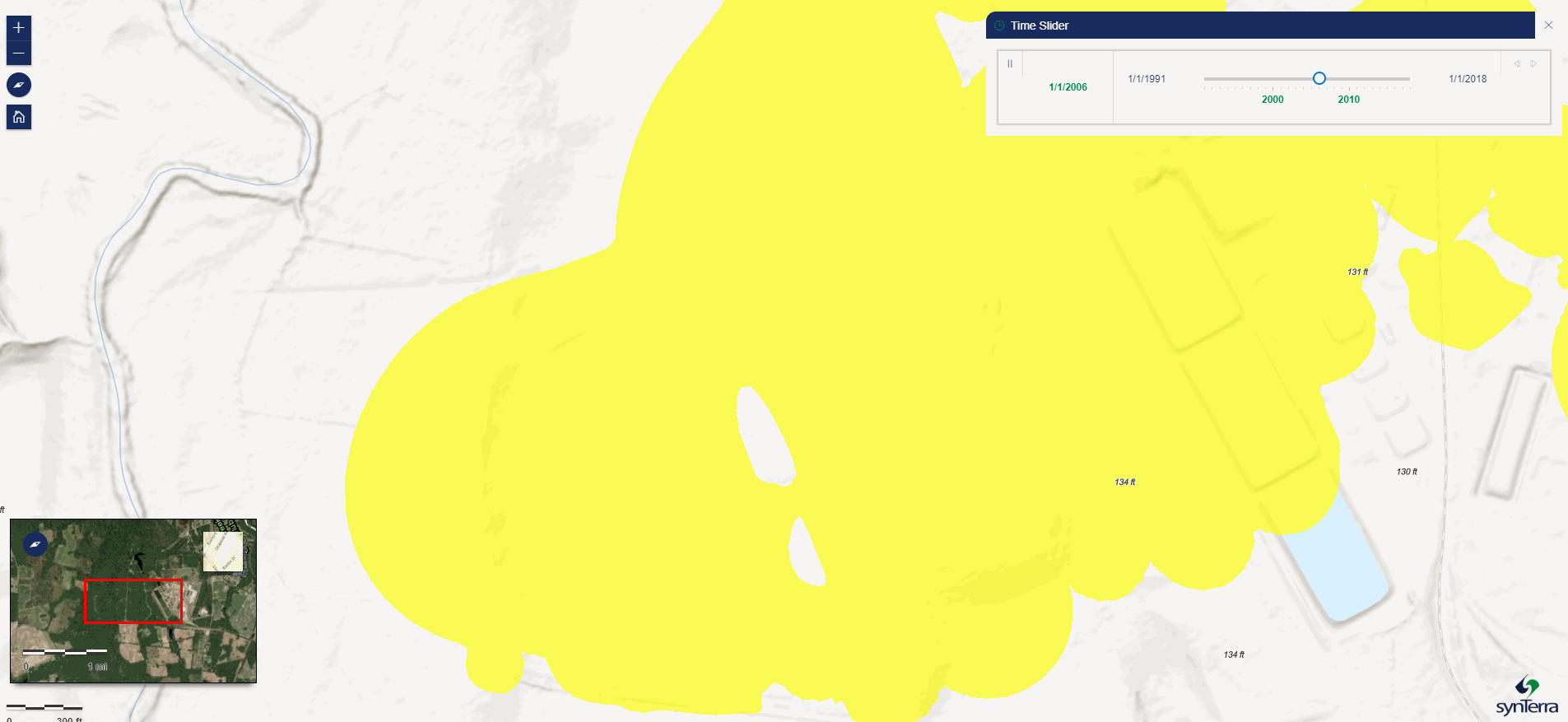 Time-enabled layers animate change over time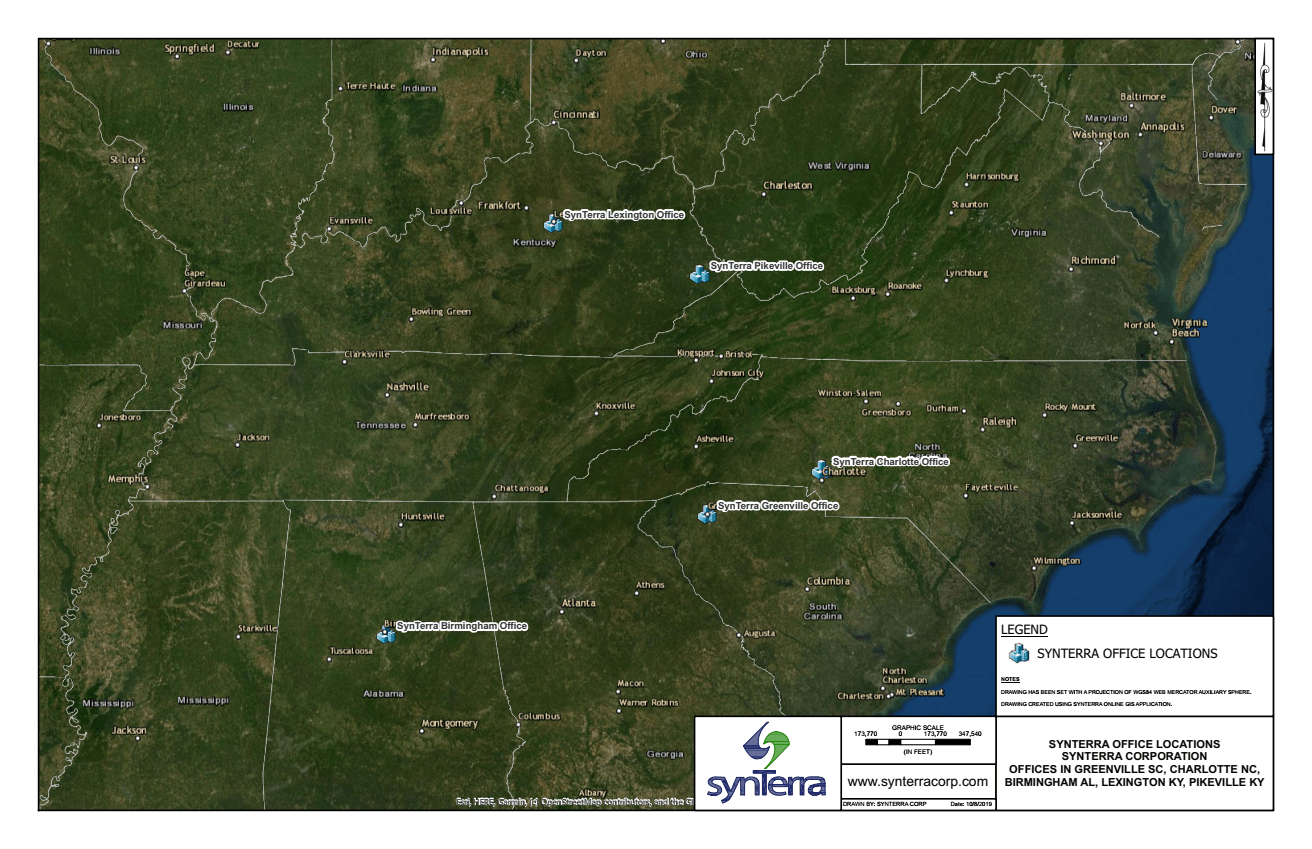 Custom Branded Print Layouts
The Print tool allows the user to create high-quality hardcopy maps directly from the application. The layout can be customized to match organization branding and supports both portrait and landscape orientations of various paper sizes. There are dynamic title, author, and date fields as well..
Export File Formats:
Operations Dashboard is a configurable web app that provides location-aware data visualization and analytics for a real-time view of people, assets, and events. View the activities and key data most vital to your organization from a dynamic dashboard.
Select Tools for Operations Dashboard:
Web Map
Integrated Graphs
Gauge
Legend
Map Details
Rich Text
Embedded Content
Panels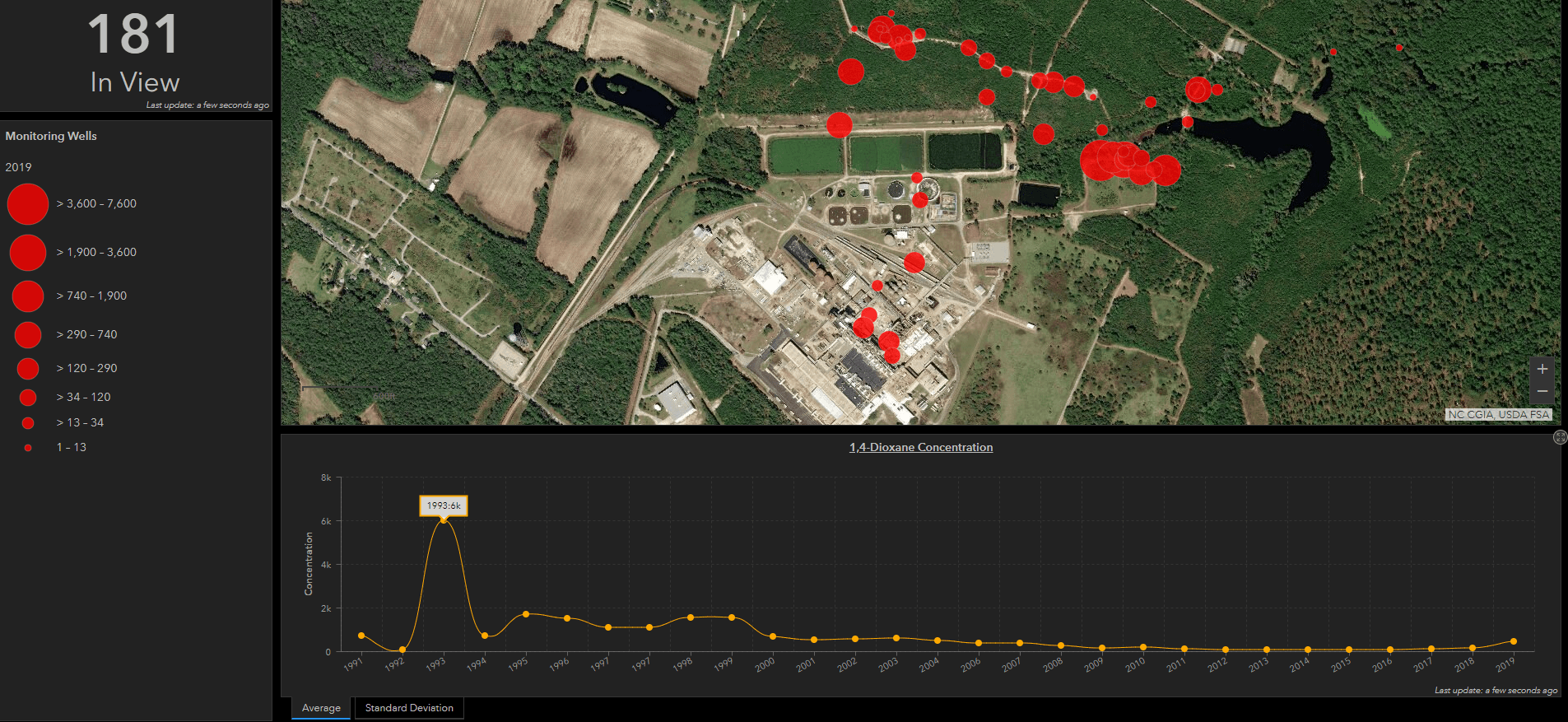 Sample Web GIS Applications
Explore SynTerra's web GIS offerings firsthand with these sample applications.

Mecklenburg County Demographics GIS Application

Broad River Watersheds GIS Application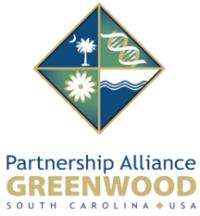 Greenwood Opportunity Zone Prospectus Story Map
Graphics Technology Group