Before you dig in, get the scoop on overindulgence.
Posted November 16, 2020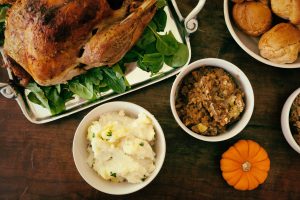 This year, Thanksgiving will be different. Make no mistake about that. Instead of large family gatherings, some will be opting for more intimate affairs, while others may choose to stay huddled at home. Regardless of what you do this Thanksgiving, we hope that the holiday marks a bright spot in 2020.
However, there is a fine line between celebrating and overindulging. For this month's Health and Safety feature, we've put together a guide that will help you make smart choices.
Here are our tips:
Breakfast is your buddy: Whoever coined the phrase, "Breakfast is the most important meal of the day," clearly didn't have Thanksgiving Day in mind. However, it's in your best interest to start the day with a few bites if you don't want to overindulge. In other words, eat a small, healthy breakfast and give your body a little fuel, so you aren't full-on famished when you step up to the table and embark on a four-helpings dive into turkey, stuffing, gravy, and the casserole triumvirate of Turkey Day: green bean, sweet potato, and broccoli.
Take a walk before you feast … and after: A little exercise every day does the body good, whether you're getting in your steps or hitting the trails on a mountain bike. Thanksgiving is no different. A bit of exercise before and after your big meal will reduce the fat in your blood and help keep your blood sugar from spiking, according to ABC News. A bit of post-meal physical activity may also prevent you from taking the infamous – or is that celebrated? – Thanksgiving Day nap. (P.S. You can still take one. You just won't have to.)
Find ways to sidestep salt: The American Heart Association wants you to have a great Turkey Day. And they want you to have another great one next year and the year after that and the year after that. To help make that happen, AHA has put together a few heart-healthy tips for Thanksgiving Day, Thanksgiving Night, and Post-Thanksgiving Day dining:
Chose herbs and spices over salt to add flavor.
Use vinegar, citrus, or dried fruit to brighten up dishes.
If you can't make your own broth, buy prepackaged low-sodium broth.
Canned beans are loaded with salt, so rinse them off before using. (On a related note: Stick with the homemade dishes. Premade dishes are often loaded with salt, sugar, or fat.)
Dr. Smaller Portions — or How I learned to love vegetables: Between all the meats, sweets, and stick-to-your-ribs eats, it's easy to load up on the A-Ticket dishes. But if you start off with the veg-heavy sides and follow up with smaller portions of the fattier, saltier, gravy-covered items, you're less likely to overindulge.
Stay hydrated: Water is your friend. Make sure you drink it.
Reason No. 1: Your body sometimes mistakes the need for water as a need to eat more. Reason No. 2: Water helps you digest your food. Oh … and go easy on the hard stuff. But you already know that.
Don't beat yourself up: This is Thanksgiving, and we're all expected to splurge a little. That's kind of the point. So, if you break your diet, just relax. This is a once-a-year experience. And most of all, be thankful.
SynTerra is serious about the safety of individuals and teams. If you need assistance with the various components of a safe workplace (safety programs, hazard assessments, PPE selection, or training), contact Paul Tarquinio or Bill Husk to see how SynTerra can help.