Water quality compliance made simple.
Webinar Recap: How to Improve your Discharge Monitoring Reporting Using Automation
Water quality compliance often gets less attention than air emissions or waste management, but it can be just as complex and time-consuming as any other aspect of environmental compliance. That's why ERA is teaming up with SynTerra, experts in water permitting and regulations to provide some insights into the NPDES program and how to streamline compliance reporting.
Did you know that all the data you use for NPDES compliance, including lab analytical results, can be streamlined to make DMR preparation faster and easier? This free webinar will walk you through every step of the DMR process and show you how you can improve each one.


Download the webinar to learn:
What data goes into a DMR and how to best collect that data efficiently
How to streamline the lab sampling and data exchange process
Data QAQC on your chemical and process records to ensure accuracy and compliance
Where automation can be used to reduce time spent on DMR and NPDES compliance
A panel discussion on water quality compliance best practices.
Thank you to our presenters: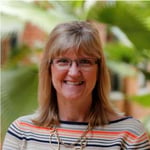 Andrea Kehn, P.E., is the leader of SynTerra's Process and Compliance group, with 28 years of experience in chemical manufacturing and environmental consulting. She leads and supervises staff professionals on multidisciplinary projects for a variety of industrial clients. Andrea's vast experience and expertise includes: Oil Spill Prevention Control and Countermeasures (SPCC) and Storm Water Pollution Prevention Plans (SWPPP); NPDES Permitting; water quality modeling; process safety management; and risk management compliance. Andrea is registered as a Professional Engineer in South Carolina. She holds a Bachelor of Science degree in Chemical Engineering from Michigan Technological University.
Erin Manitou is a Senior Lead Project Analyst & Account Manager at ERA Environmental Management Solutions with over 11 years experience working with manufacturers to streamline and redesign their EHS data management processes. Ms. Manitou holds a MS in the Environmental Sciences from the University of Texas, with expertise in emissions tracking, compliance reporting, and sustainable manufacturing. Erin works closely with ERA clients and our consultant partners to standardize, streamline, and automate EHSQ data management across their entire organization.

SynTerra is an employee‐owned science and engineering consulting firm. The company helps clients meet business objectives and address technical challenges. SynTerra works with clients on industrial, mining, governmental, economic development, and commercial projects. SynTerra has offices throughout the Southeast.
ERA Environmental is a leading-edge EHSQ software developer with over 25 years of experience serving the manufacturing industry with advanced automation software that improves data collection, EHS reporting, and compliance task management. Learn more at era-environmental.com
.