A note to our clients and communities
Posted March 24, 2020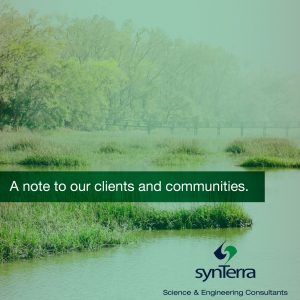 SynTerra, as always, is focused on safety. To help protect our employees, clients, and communities amid the Coronavirus (COVID-19) situation, we have implemented company-wide remote work and distancing procedures for those working on client sites. We're thankful that today's technology enables us to continue operations, collaborate freely, and provide the same responsive service our clients deserve.
For our clients, employees, and communities in our service areas, state-specific health information can be found at the links below:
To stay up to date with the changing business resources, laws and regulations head to the following local sites:
If your state is not listed above please visit the CDC or Coronavirus.gov for more information.
SynTerra continues to closely monitor the ongoing Coronavirus (COVID-19) situation.  Client service and safety, for both employees and clients, remain the focus of our operations.  While many of us are working and collaborating remotely these days, SynTerra continues to coordinate closely with our clients to continue on-site work such as environmental monitoring, surveying, and operational support.