SynTerra's return to offices.
Updated June 3, 2020
SynTerra has been monitoring COVID-19 data and safety recommendations to determine when it is safe to return to an office environment. Safety is our top priority and we want to be as cautious as needed to protect our employees and clients. 
 We are monitoring new information and reporting in each area where SynTerra is present in the community. That data is helping to drive our business decisions on opening our office locations in a three-phase approach. 
Our requirements and precautionary measures SynTerra will practice during the phased return to office include: 
Self-temperature check.
Employees will receive a certification that they agree to comply with prior to coming into the office.
Employees are required to wear facemasks in the office when social distancing is challenging.
Visitors will need to add contact information to sign-in sheet in the event contact tracing is needed after a visit.
Employees will need to clean/disinfect common touchpoints before use. These include copiers/scanners, door handles, light switches, etc.
SynTerra will maintain an adequate supply of facemasks, hand sanitizer, tissues, gloves, alcohol-based towelettes, soap and water, and disinfectant cleaning supplies for office use.
Even as we reopen offices, we will continue to strongly encourage using technology, like Microsoft Teams, to communicate, or hold meetings to reduce close contact as much as possible. This has been a successful way for us to collaborate and communicate. 
 SynTerra has always been flexible with schedules and working remotely when it can be accomplished productively. Our teams will continue to evaluate what works best and supports serving our clients effectively. 
We cannot thank our clients and the SynTerra team enough for the continued patience as we navigate this pandemic together. If there are any questions, please reach out to info@synterracorp.com. 
A note to our clients and communities
Posted March 24, 2020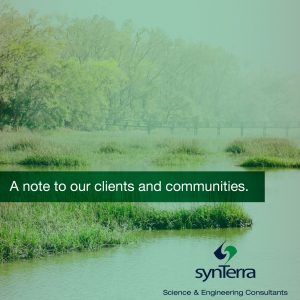 SynTerra, as always, is focused on safety. To help protect our employees, clients, and communities amid the Coronavirus (COVID-19) situation, we have implemented company-wide remote work and distancing procedures for those working on client sites. We're thankful that today's technology enables us to continue operations, collaborate freely, and provide the same responsive service our clients deserve.
For our clients, employees, and communities in our service areas, state-specific health information can be found at the links below:
To stay up to date with the changing business resources, laws and regulations head to the following local sites:
If your state is not listed above please visit the CDC or Coronavirus.gov for more information.
SynTerra continues to closely monitor the ongoing Coronavirus (COVID-19) situation.  Client service and safety, for both employees and clients, remain the focus of our operations.  While many of us are working and collaborating remotely these days, SynTerra continues to coordinate closely with our clients to continue on-site work such as environmental monitoring, surveying, and operational support.